Mystery Objects & Fortean Oddities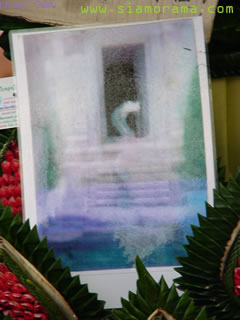 This photograph purports to show the ghostly spirit
of a naga -- a mythical king serpent that lives
in the Mekong River -- crawling into the doorway of a temple.
It was tucked into a damp plastic sleeve and placed
in a floral offering at a temple near Nongkhai, Thailand,
on the night of the full moon when half a million Thai
gather on the banks of the river to watch "naga rockets",
mysterious glowing balls of light rise up out of the water.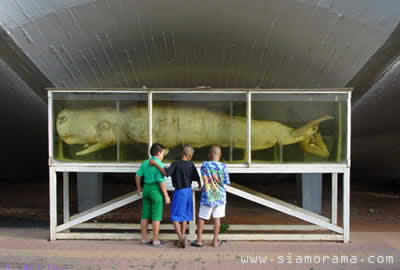 Originally misidentified in the Indonesian press as a
Tasmanian Globster, the deceased occupant of the craft
was positively ID'd by both skin type and retinal halo
as a 99.999% match to Purity Control.
all content, ideas and images © 1982-2004 by John C. Goss
---
artworks by john goss:
photography
|
writing
|
biography
thai folk art museum:
permanent collection
|
images on loan
|
asian visions of heaven & hell
|
benefactor
missing links:
curious clip art codex
|
essential connections
|
wonder bread generation
siamorama:
home
|

|
felch memory cache